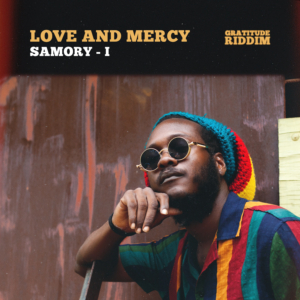 Armed with his self-professed calling to proclaim the Almighty's message, Samory I has today released 'Love and Mercy', a comforting reminder to others in the face of strife. The track is the next single on the new juggling "Gratitude Riddim," the latest from producer Winta James.The Riddim features versions by Jaz Elise (whose titular version is also out now), Mortimer, Kumar, Naomi Cowan, and Ras-I. 
The track, in keeping with the overarching theme of the juggling project, speaks to the fact that 'Love and Mercy' will always be granted by the higher power. "The inspiration for "Love and Mercy" comes from the struggles we all face," Samory I said. "Daily, love and mercy are shown to us by the Almighty God. 'Jah give I love and mercy' even when we're not worthy." It was initially created in 2019 and was finished last year as the pandemic hit and social distancing measures were put in place. 
'Love and Mercy' is a tune of reassurance and is reverent in its delivery. "This song turned out to be an affirmation of Samory's faith," Winta said. "The past couple years have been hard for everyone, yet we all still give thanks for the little things that bring us joy and hope, and I think this came across in the lyrics that each artiste wrote for their song."
The 'Gratitude Riddim' is a contemporary reggae one drop riddim, featuring traditional drum and bass from the legendary duo, Chris Meredith & Wilburn "Squidly" Cole. The songs, recorded during the COVID-19 pandemic, finds the artists in a reflective mood, with their lyrics centering around themes of gratefulness, love, faith, and self-awareness. It is a nod to 'juggling' culture, a traditional aspect of Reggae and Dancehall music. 
Pre-Save "Gratitude Riddim" here: https://moremusic.at/GratitudeRiddimAlbum
Samory I's 'Love and Mercy' is out now across all DSPs and is being distributed via Easy Star Records with the version from Jaz Elise: 'Gratitude' also out now and the remaining tracks by Mortimer, Naomi Cowan, Kumar Fyah and Ras-I on April 22.