OUT NOW ON EASY STAR RECORDS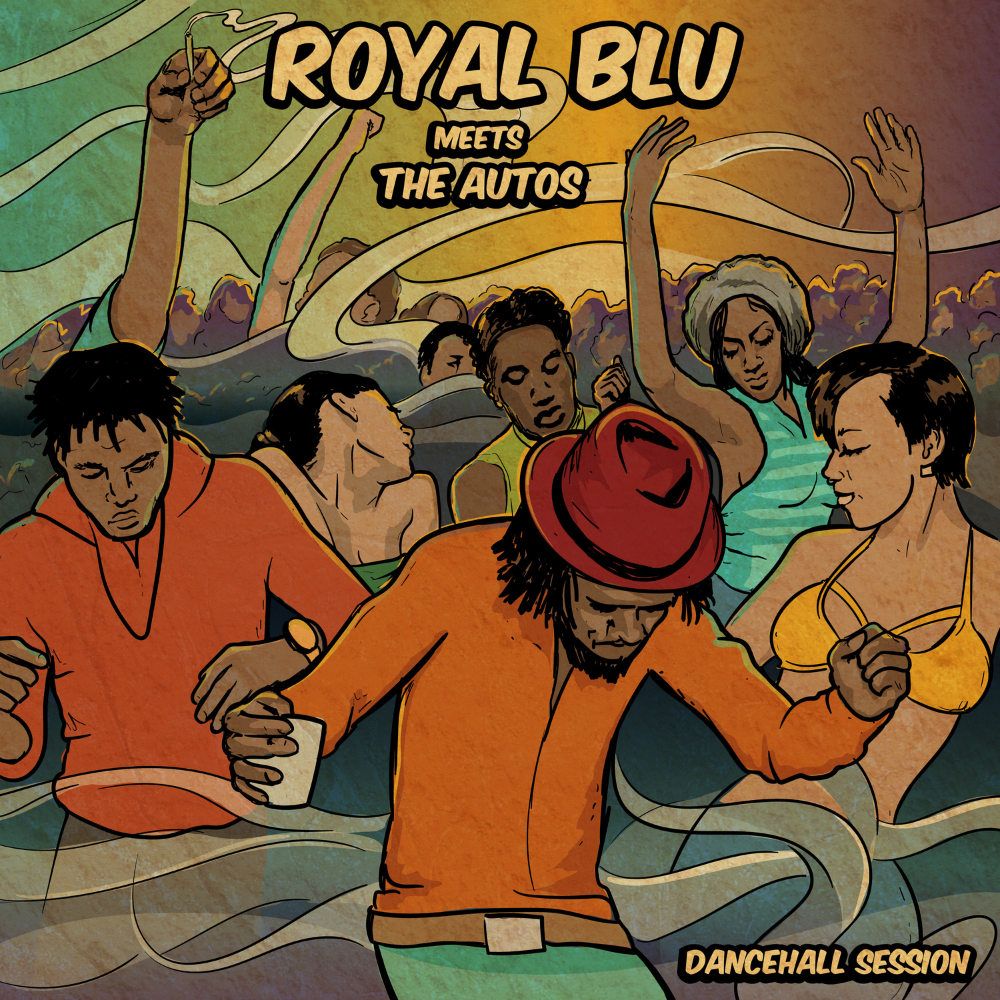 Royal Blu has teamed up with music production collective The Autos to release the track "Dancehall Session," an uptempo blend of retro and modern sounds. Blu connected with Ian Gastl, former Tatanka (Colorado-based Reggae band) singer/songwriter [and head of The Autos] and the two immediately hit it off. This track is their official debut and is indicative of Blu's own sound: fusing the foundation of the classic Dancehall and Reggae sounds with something more contemporary and unique. 
"With 'Dancehall Session' I wanted to do something different with my voice and just have fun with it." Blu said. "I wrote this song at a time that felt like 'peak pandemic/quarantine' in Jamaica. The riddim gave me this 'big festival in Europe' type of feel, so I envisioned being on a stage. It was perfect timing when Ian [from The Autos] got in contact with me, because that was the mood I was looking for and he came through." 
"Dancehall Session" is being released via Easy Star Records and is the true epitome of modern-day "easy skankin'." The track is out now across all DSPs and is being released with visuals shot by cinematographer Samo, showing the juxtaposition of Blu's modern take on the riddim. 
Listen to "Dancehall Session" here: http://moremusic.at/DancehallSession  
About Royal Blu:
A native son of Spanish Town, Jamaica, Royal Blu is a versatile singer, songwriter, and lyricist who's been hailed as "one of Jamaica's top artists to watch" by Complex. Blu, born Sean-Michael Francis, has amassed wide recognition for his skillful blend of reggae, hip-hop, dancehall, and R&B into his own seamless style. His impactful presence has landed coverage at Complex, Fader, and BBC1, among others. He has writing credits and a cameo on Protoje and Koffee's "Switch it Up," while his conscious verse on the anthem "5Gs," with Kabaka Pyramid, Runkus, and Jesse Royal, has been heard on reggae radio rotations all over the world since its drop earlier in 2021. 
Blu's deep-rooted devotion to Jamaican music is evident in his delivery, while his eclectic love for artists such as Nas, Michael Bolton, and Luther Vandross seep deep into his genre-defying sound. Blu's sound has led him all over the globe, including major European festivals such as Reggae Geel (Belgium), Reggae Jam (Germany), Rote Fabrik (Switzerland), and more. Coming off of his JLL-produced song "Style and Pattern," Royal Blu has recently partnered with Easy Star Records to release a new project alongside producers The Autos. "Dancehall Session" is set to be released November 12th of this year. 
About The Autos: 
The Autos are not a band as much as they are a production environment. Led by former Tatanka lead singer/songwriter Ian Gastl.  Ian is joined by Nick Wimer (Project 432, ghost.wav), Pancho Tranmer (Massif) and Taylor Kaufman (Massif).  Embracing the collaboration culture of 1970's Reggae, The Autos are constantly working with new players and artists to maintain a fresh sound. 
The Autos got their name after Ian was diagnosed with an auto-immune disease and cancer. Since the diagnosis, the group has continued working through Ian's treatments to create tracks like "Trespass," featuring Elliot Martin of John Brown's Body and "Boom Shakalok," featuring Ruff Scott from Easy Star All-Stars.  Now that Ian is healthy and in remission, The Autos have started backing artists at shows and festivals across the country (the most recent being the Four Corners Reggae Festival in Aztec, NM, alongside Bobby Hustle).  The future looks bright for The Autos, who are set to release "Dancehall Session" in collaboration with Royal Blu on Easy Star Records November 12th.