OUT NOW ON EASY STAR RECORDS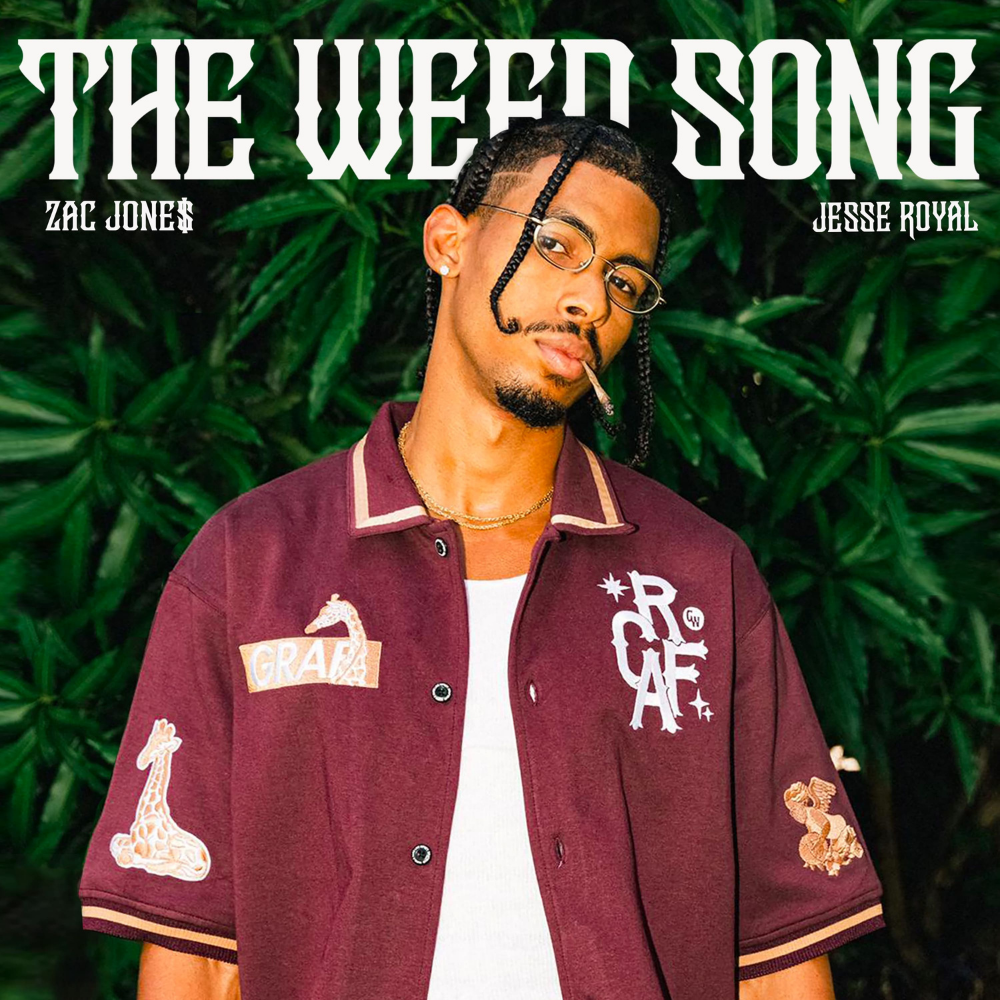 ZAC JONE$ has teamed up with International Reggae Star Jesse Royal on 'The Weed Song', dedicated to the 'feel good' high from the controversial plant. Rising Producer/Artist and frequent collaborator Iotosh ("Rich Forever" by Jesse Royal, "West Indies" by Koffee, etc) finessed the production with a mesmerizing blend of the flute and thumping Reggae drum beats with notable dub and hip hop elements.
 "I wrote this song at a time when I was busy doing a lot of things outside of music and I remember feeling really overwhelmed", ZAC said. "Every night after work I'd sit outside in my garden and smoke and I'd feel good in that moment; like that was my escape. One of those nights I just wanted to put that feeling into song. I pulled up the beat from Io (Iotosh) and it all came together right there. I was saving it for the right feature, so when Jesse heard it a few months later and started writing his verse on the spot, I knew that was it. It was all organic so that was dope." He was featured on Tessellated's 'Freeza' alongside Shenseea that same year and then in 2020 released his radio hit 'Miss Jamaica' featuring Agent Sasco, followed by 'Lonely' in February 2021, both produced by Iotosh for the upcoming 'Man A Yard' EP.
The track is being released via Easy Star Records and is the third release from ZAC's upcoming debut 'Man A Yard' EP (the other two being 'Miss Jamaica' ft Agent Sasco and the second, 'Lonely' – released in February of this year). The lyrics speak very simply to the feeling weed gives and in the name of true synergy, the collaboration with Jesse was an obvious one. "I knew I wanted the right feature for it so I had it sitting for about 3 months because I knew the right person would come along." ZAC said. "Then one night around the time we were working on Jesse's (Royal) album, we met up with Jason (Panton) at Kaya and while listening through Jesse's project, Jason [Panton] played the "Weed Song" track with the open verse and Jesse started writing for it then and there. So in the end it's just God's timing because we were supposed to be at another session;  it's crazy how it all worked out." 
ABOUT ZAC:
This multi-dimensional artist started out as Zachry Jones in Kingston, Jamaica in a family with a love for music but no apparent talent. Early exposure came primarily via his Aunt and Mum who spun music by Biggie Smalls, Shaggy, Jay Z, Maxwell, Nelly and more at home. At age 14, Zac released his first single, a remix to Drake's 'Digital Girl', with fellow local Rap/R&B duo FRIDAY NIGHT CRU (known then as 'Twisted Minds' then). A series of Soundcloud singles followed including 'Love Docta' with Runkus.
Zac launched the Independent label '$tony Official' and cites Nipsey Hussle and Jay-Z as his influence in this regard. The first release was the rap-influenced single 'NOSTALJAH (Open Di Garage)' in 2019. He was featured on Tessellated's 'Freeza' alongside Shenseea that same year and then in 2020 released his radio hit 'Miss Jamaica' featuring Agent Sasco and produced by Iotosh.  'Miss Jamaica' was the first single from his debut EP, 'Man A Yard '. 
Zac classifies his latest sound as Reggae with heavy Rap influences. He is part of the current evolution of Jamaican music and describes his style as a multi-dimensional expression of his past, present and future, blending Reggae, Rap, R&B, Dancehall, and World Music into his signature sound.