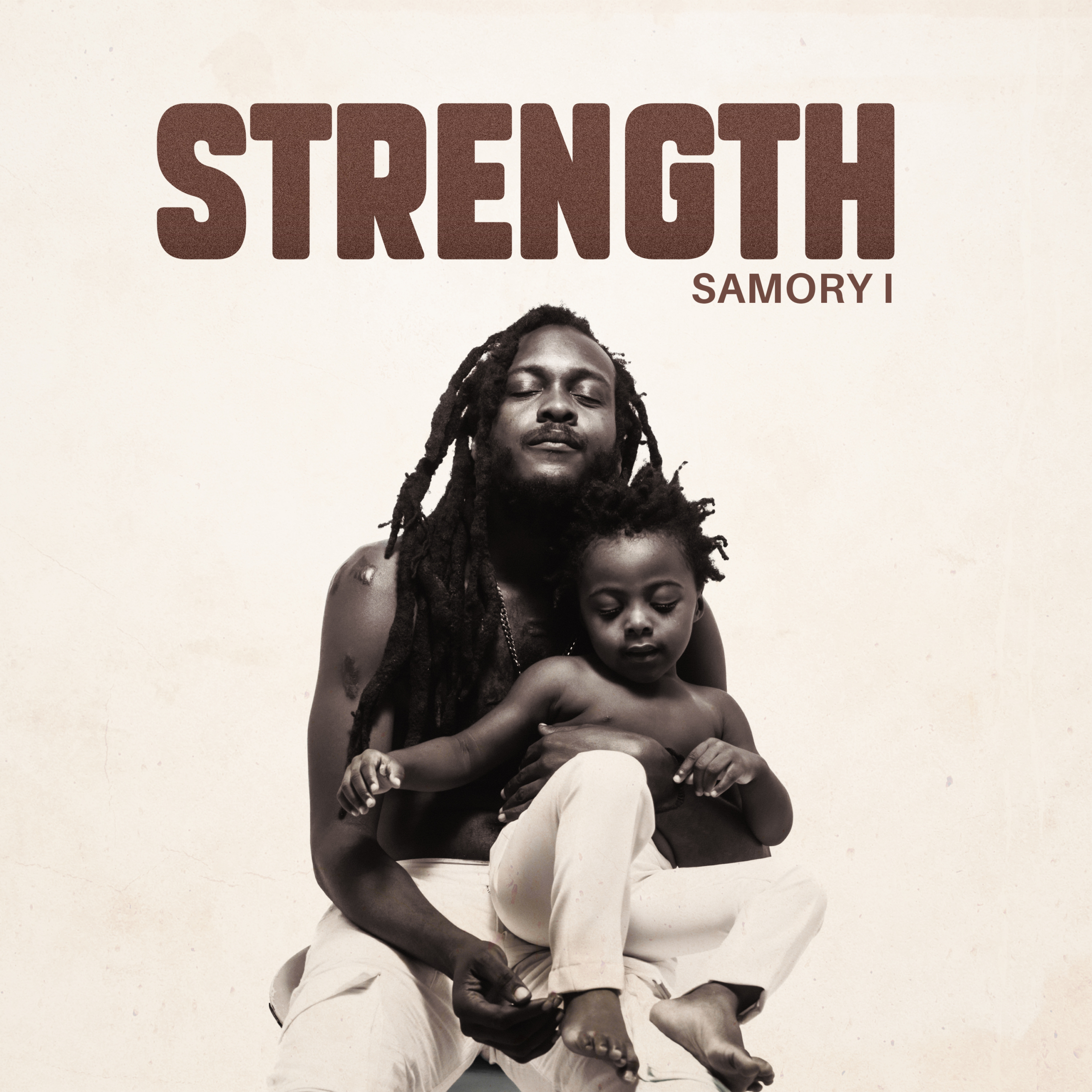 Samory I, one of Jamaica's most promising reggae artists to watch, releases his eagerly-awaited solo debut album Strength along with a new video for its single "Outside" feat. Lila Iké, out today, Nov 17, 2023, via Overstand Entertainment and Easy Star Records. The LP follows Black Gold, his 2017 collaborative album with the iconic producer Rory "Stonelove" Gilligan. 
Named after Samory I's affectionate moniker for his son, Strength is an 11-track storied opus produced by esteemed Jamaican producer Winta James, whose credits include hits with Protoje, Chronixx and Damian Marley.  Samory I said the LP "represents the struggles I've overcome, both mentally and physically." Growing up in Kencot, a rougher neighborhood in Kingston, Jamaica, he faced many adversities and found reggae music as a form of salvation. He used his voice as both an instrument and vehicle for social change in his community. The album is a true reflection of its title, proving that courage and love prevails above all.
He counts his blessings on the album's latest single "Outside" featuring his native island's fellow singer Lila Iké.  From a backyard gathering by day to a street party and stadium sneak-in by night, the song's accompanying video (directed by Aka.Ruppi) vibrantly captures the two artists celebrating life through Kingston, Jamaica. The visual, which arrives today, also features cameos from their musical peers including artists like Mortimer and Protoje and selector Boom Boom. 
Even though Samory I and Lila Iké are from different communities in Jamaica, they share a similar upbringing and connection over struggle while also  acknowledging their perseverance and tenacity. As the chorus boldly states, "We have been through the worst no doubt, now we counting the winnings…"
Samory I expands on the song's message, "Youths aspire for greatness, but life comes with many challenges. The journey often starts from humble beginnings, but hard work brings success. I'm grateful through all things." He adds that "the synergy was amazing with Lila Iké." She also elaborates on this enthusiasm. "I have been waiting for this collaboration since 2016 when I moved to Kingston and my next door neighbor was blasting unreleased songs from Samory I. The reverence in his voice captured me immediately, and I've been a fan since. I can't wait for people to hear and feel the power in his sound. His new album will be a classic," Lila proclaims.
Release Date: November 17th, 2023
RELEASES BY SAMORY I ON EASY STAR RECORDS
Blood In The Streets
easystar
2022-11-11T09:03:57-05:00