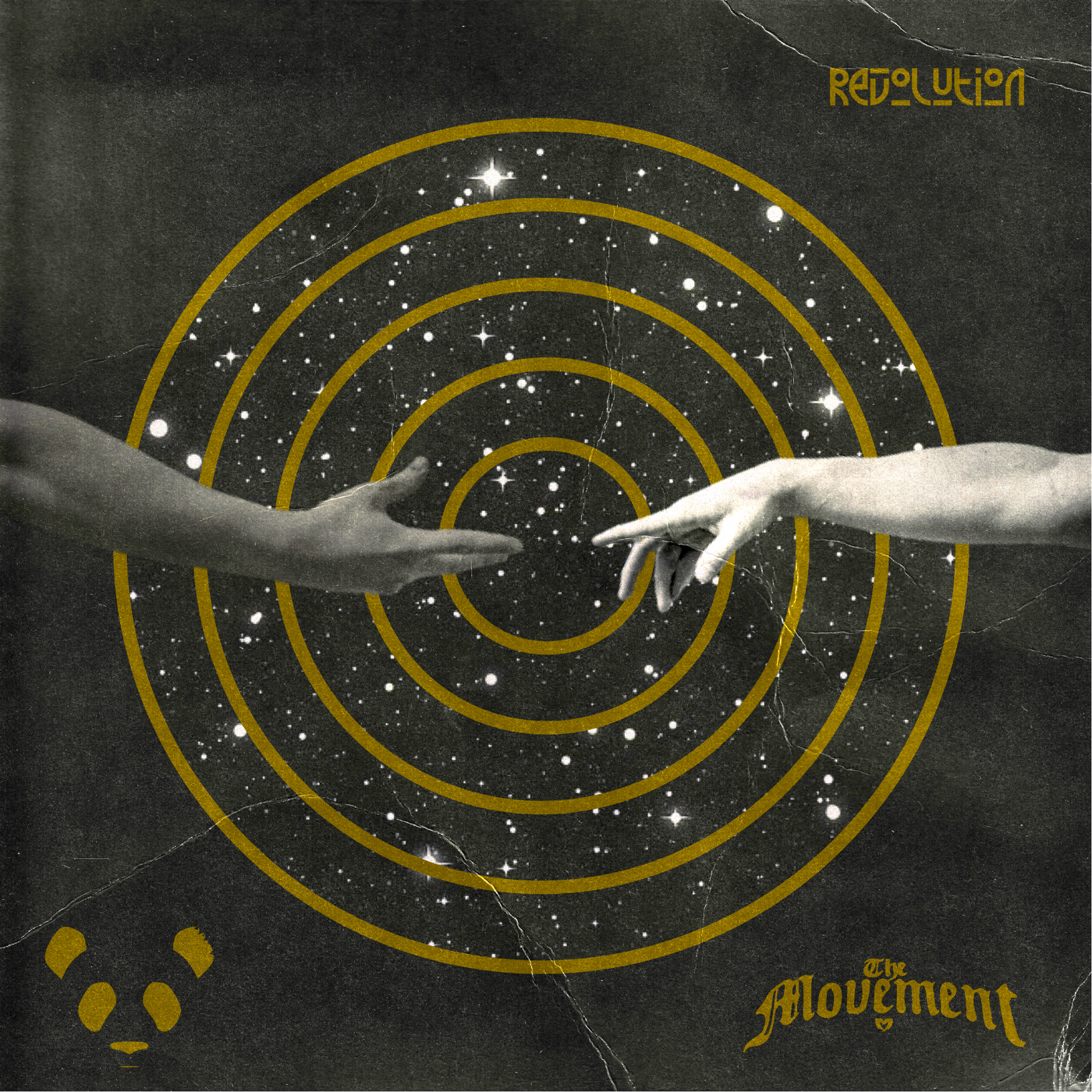 FROM UPCOMING ALBUM LOVE IN TIME – OUT APRIL 7TH ON EASY STAR RECORDS
Giant Panda Guerilla Dub Squad's fresh collaborative approach on their upcoming album Love In Time (out April 7 on Easy Star Records) – which finds the band leaning hard into the "squad" in their band name – is on full display on the record's second single: "Revolution," co-produced with Alborosie, and featuring Josh Swain of The Movement on vocals. The powerful track is available now and can be listened to here with a full music video to follow. 
The spirit of collaboration was truly in the air with the creation of this track. GPGDS bassist James Searl explained that "'Revolution' was originally a late-night studio jam that we sent to Alborosie to see what he could cook up. 'You want me to add the spicy sauce, yeah?' he said. With that, he took the drums and vocals and crafted an absolute bomb of a musical collaboration, with horns from Milan and bass lines from Jamaica. We knew that this was the tune that we wanted our east-coast-grinding homie of nearly twenty years, Josh Swain, of the Movement, to spit hot fire on. Josh came with his southern sticky Goodie-Mob-a-licious rapid fire delivery to bring the song up to 1,000%. Exactly the kind of collaborative style we were going for as we dove deep into creating Love In Time."
The initial back and forth between GPGDS and Alborosie helped shape "Revolution" into a song that can only be created by complete openness and trust in the process. Searl added, "That's why we sent out half-finished ideas. We wanted to collaborate and be excited about hearing our music with a tweaked formula."
The album's songwriting process was a stark contrast from their previous technique of recording one song at a time with a focused pace. The start of the sessions had a similar trajectory until the pandemic hit. Since the band was facing a potential six-month separation at the start of 2020, they rushed into the studio to record as many tracks as possible. After laying down more than 25 song ideas and riddims in a week, recording with longtime friend Matthew Goodwin (of The Movement and Easy Star All-Stars), the band then turned to outside producers, collaborators, and other old colleagues to finish things out. It was perfect timing as everyone was looking to make a connection, even remotely. The various tracks were sent to three different camps of musicians, engineers and producers: the production trio Zion I Kings, who have produced and mixed tracks for Protoje, Akae Beka, Midnite, Lutan Fyah, and many more; Italian-born international reggae icon Alborosie, who is best known for his own long string of hits and albums since the early 2000s; and Danny Kalb, a longtime partner of GPGDS who produced their biggest hit, "Steady," but is also known for his productions of The Movement, The Green, Ben Harper, and many others. Originally the idea was to build towards three different releases, but the diversity of the songs and production styles all complemented each other in ways the band had not expected. (In fact, it was working with Danny Kalb on the "Steady" single in 2014 that helped lead to this record; it was one of the first times they had worked with an outside collaborator, and the process and result were so powerful for the band, that they strived for similar vibes this time around.) Add in a list of featured guest artists, starting with Fearon and Botri, plus The Movement, Anthony B, Double Tiger, Blakkamoore, and Skribe Da God, and it became obvious that selecting the best tracks from all of these sessions would make for a very dynamic full-length record. The result is Love In Time.
Formed in 2001 in Rochester, NY, Giant Panda first received praise for their live show, which combined world beats and reggae rhythms with an urgent energy and jamband dynamics. It's no surprise that Live For Live Music called the band, "…one of the most innovative and genre-pushing reggae bands out there." The band consists of Dylan Savage (guitar, vocals), James Searl (bass, vocals), Chris O'Brian (drums, vocals), Eli Flynn (guitar, vocals), and Tony Gallicchio (keyboards). Beyond their celebrated live energy, Panda has also released six studio albums, ranging from their alternative Americana releases Country (2012) and Bright Days (2015) to their Billboard Reggae Chart-toppers Steady (2014) and Make It Better (2016). Giant Panda has built an extensive and eclectic catalog that stands the test of time. Love In Time delivers a fresh new evolution of the band's trademark sound that results from their newly collaborative approach.
Pre-orders for physical vinyl (pressed with a mostly clear/slightly smoky colored vinyl) and The Full Panda bundles (including a long sleeve tee, poster, and handmade incense with holders) are available now. Every pre-ordered record will be signed by the band. All vinyl pre-orders will include digital downloads of any singles released and whole album on release date.
Follow Giant Panda Guerilla Dub Squad: