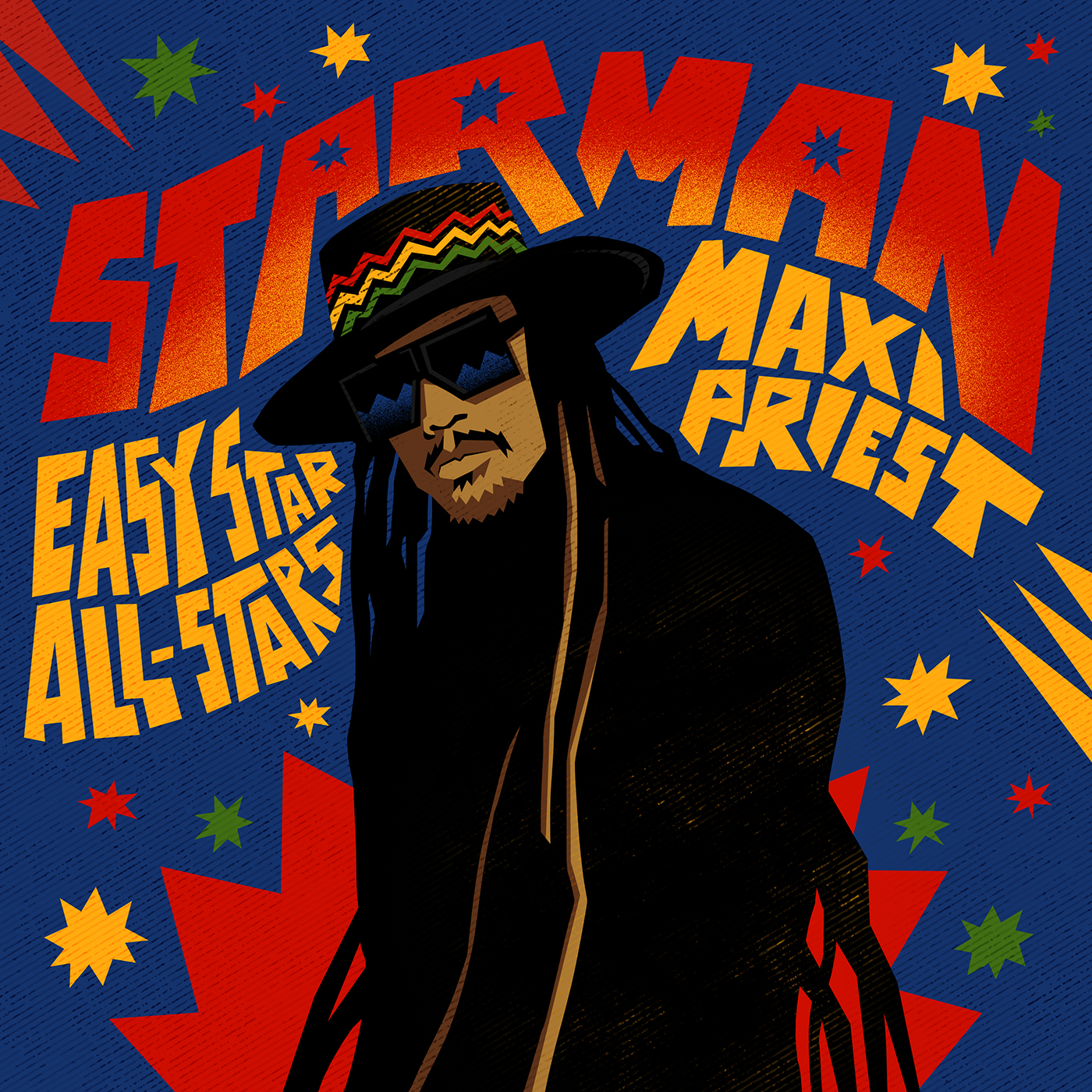 FT. MACY GRAY, STEEL PULSE, FISHBONE, THE SKINTS, AND MORE
NEW SINGLE "STARMAN" FEATURING MAXI PRIEST
Today, veteran reggae group Easy Star All-Stars return with the announcement of their newest album, a re-imagined rendition of David Bowie's classic The Rise and Fall of Ziggy Stardust and The Spiders from Mars, aptly entitled Ziggy Stardub, out April 21 via Easy Star Records. The album features guest performances by Macy Gray, Steel Pulse, Fishbone, Alex Lifeson (Rush), Vernon Reid (Living Colour), The Skints, Mortimer, The Expanders, Samory I, Naomi Cowan, and many others. Pre-order packages of the album will be available on the easystar.com webstore, including a limited edition exclusive vinyl – 250 hand-numbered units printed on tri-colored pressings of red, gold, and green – along with CD and exclusive t-shirt offerings.
Alongside the news, the group also shared the first taste of the project with "Starman," featuring vocals by the Grammy-nominated reggae star Maxi Priest. First shared by Rolling Stone, the All-Stars and Maxi Priest put their signature twist on the beloved hit, making use of reggae drum patterns and vocal styles as they reforge Bowie's work into a fresh piece of danceable reggae fusion. Michael Goldwasser, producer, arranger, and multi-instrumentalist of the band says, "We chose 'Starman' as first single for this project because it's the song most pivotal to the loose storyline of the original album, and it's become the best known track on the record as well. We utilized the flying cymbal drum pattern, first popularized by producer Bunny Lee and drummer Santa Davis in the mid '70s, to give even more lift and make the song that much more danceable. Maxi Priest's vocals and the live strings helped us anchor key melodic elements of the original, while we balanced some heavy dub effects throughout with a pop sensibility."
Acclaimed British reggae vocalist Maxi Priest rose up through the late 80s and 90s to become one of the most internationally successful reggae solo artists in the world. His cover of Cat Stevens' "Wild World" gave Priest his first US smash hit, eventually gaining him worldwide recognition. His 1990 album Bonafide achieved gold status and the trans-Atlantic chart-topper "Close to You" hit #1 on the Billboard Hot 100 Singles chart. Over the course of ten albums and countless live performances all over the globe, Priest has unleashed a one-world music that heals, rejuvenates, and uplifts. He is widely credited with helping spread the gospel of reggae and Caribbean music. 
Follow Easy Star All-Stars:
Facebook / Instagram / Twitter / YouTube
Follow Maxi Priest: