HIS THIRD STUDIO RECORD, SMOKE, IS OUT NOW ON EASY STAR RECORDS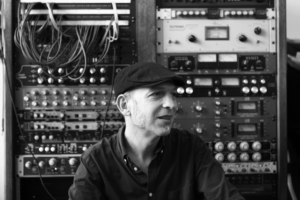 Victor Rice, the Latin Grammy award-winning engineer, musician, producer, and long-time Easy Star Records collaborator, has released his new album Smoke on Easy Star Records. This marks his third studio album and the first full release of his own compositions in over a decade. The album is available now via Easy Star Records, iTunes, Amazon, and Google Play.
Even though Rice is a prolific artist with remixes, production work, and credits including The Slackers, Easy Star All-Stars, Bixiga 70, The Toasters and more, he has only put out two solo albums in the past twenty years; At Version City  (1999) and In America  (2003), which are both cited as influential releases in the reggae and world music scenes. The prior expressed the energy of NYC's burgeoning Lower East Side reggae scene, while the latter reflected Rice's move to Sáo Paulo Brazil in 2002. Smoke  goes deeper into the influence of Brazilian music where the musical stylings of MPB, pagode, and samba rock start to intertwine with Rice's deep reggae, ska, and dub sensibilities.
He adds, "This record is about finding a way to fuse two different styles of music and dance from the 1960's, Brazilian samba-rock and Jamaican rocksteady," Rice explained. "The grail for me would be for people to hear samba-rocksteady (SRS), a bridging of styles that would be at once fresh, but with a beat that would be mutually intelligible by dancers from both traditions." The opening title track "Lou," embodies Rice's marriage of worldly influences over a swinging beat and held together with a solid foundation rooted in reggae.
The album is summed up best in the vibrant liner notes penned by ethnomusicologist Daniel T. Neely stating, "Smoke  embraces the cosmopolitanism of the music that inspired it. It's an album that lives in New York, Brazil, Jamaica, and Brussels, but it is of the world. Yes, it's been fifteen years since Rice released his last record, and over that time he's made plenty of music that could have been presented together as an "album." But Brazil, its music, and its people intervened. Out of the experience came samba-rocksteady, a clear creative path that Rice has since followed with a pure heart. It's an exciting new direction that's been simmering for years. Finally, the story begins."
ITUNES
AMAZON MUSIC
GOOGLE PLAY
STORE
SPOTIFY