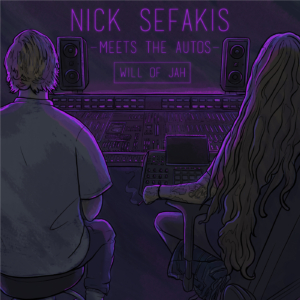 The Autos, the studio production collective led by Ian Gastl, the former leader of Tatanka, returns with a new single. The collaboration this time is with Nick Sefakis, of Iya Terra, on a song with strong devotional lyrics to the Almighty. The Autos last rolled out a single with Royal Blu this past fall ("Dancehall Session"), which quickly became their biggest release to date. Nick Sefakis has been with Iya Terra since 2014, serving roles as guitarist and vocalist, as they've risen towards the upper ranks of the US reggae scene. Nick operates out of his own Enoch Sound Studio and his debut album charted at #2 on iTunes reggae. After winning Breakout Artist of the Year via Reggae 360 in 2020, Nick has his sophomore album coming soon. In the meantime, "Will of Jah" will keep fans happy as they wait.
About The Autos: 
The Autos are not a band as much as they are a production environment. Led by former Tatanka lead singer/songwriter Ian Gastl.  Ian is joined by Nick Wimer (Project 432, ghost.wav), Pancho Tranmer (Massif) and Taylor Kaufman (Massif).  Embracing the collaboration culture of 1970's Reggae, The Autos are constantly working with new players and artists to maintain a fresh sound. 
The Autos got their name after Ian was diagnosed with an auto-immune disease and cancer. Since the diagnosis, the group has continued working through Ian's treatments to create tracks like "Trespass," featuring Elliot Martin of John Brown's Body and "Boom Shakalok," featuring Ruff Scott from Easy Star All-Stars.  Now that Ian is healthy and in remission, The Autos have started backing artists at shows and festivals across the country (the most recent being the Four Corners Reggae Festival in Aztec, NM, alongside Bobby Hustle).  The future looks bright for The Autos, who are set to release "Dancehall Session" in collaboration with Royal Blu on Easy Star Records November 12th.