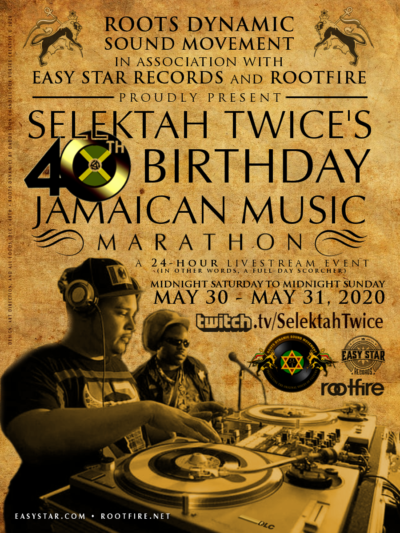 In commemoration of 60 years of Jamaican Music, and to celebrate his 40th Birthday during this pandemic, Selektah Twice will be behind the turntables LIVE on
Twitch.tv/selektahtwice
for 24 consecutive hours starting midnight ET on Saturday, May 30, playing every style of Reggae from its inception – a personal bucket list accomplishment he has always wanted to attempt. A milestone challenge for his milestone birthday during an ideal and unique time to make it a reality.
We'll also be streaming on EasyStar.com – check back

TONIGHT

and we'll have the livestream embedded right here!
12am – 2am – Ska (1960-66)
2am – 4am – Rudeboy & Rocksteady (1966-68)
4am – 9am – Reggay Reggae (1968-73)
9am – 12pm – Roots (1973-79)
12pm – 3pm – Dancehall (1979-84)
3pm – 7pm – Digital (1984-90)
7pm – 12am – Ragga To Today (1990-20)