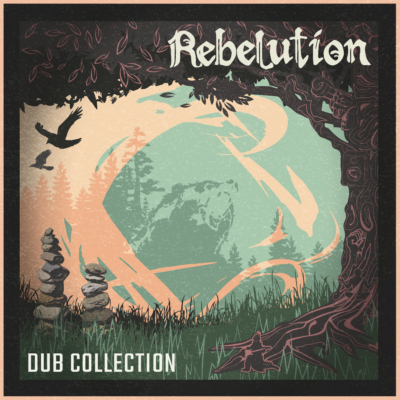 Grammy–nominated reggae/rock band Rebelution will release Dub Collection on July 17, and today they have launched the first single "Attention Span Dub." The original version appeared on the band's debut album Courage To Grow. The dub album, a joint venture between the band's 87 Music and Easy Star Records, features 15 dub versions of fan favorites and five songs will be released on consecutive Fridays through June 26 with each track representing a different album from throughout their effervescent career. The band's lead touring guitarist, Kyle Ahern, was given the reins to mix these tracks, and he has delivered a release that will have Rebelution fans grooving in their homes and reminiscing about past shows, all while looking forward to what's to come. The collection is available to pre-order now, and the full track listing can be found below.
Dub is a unique form of reggae that remixes existing tracks, focusing heavily on dropping instrumentation and vocals in and out, while layering them with effects like reverb and delay. "We thought about putting out a dub version of our last album, and then realized this would be a better idea," says Eric Rachmany. "There's so many of our old songs that deserve a dub version. We know our fans love the early Rebelution material, so this seemed appropriate." Kyle Ahern's approach, while steeped in the history of the genre, is more modern than some dub purists. "He was the perfect candidate to produce the album, because he understands both the Rebelution sound and dub music," says Eric. "We're so excited for people to hear it, because it's a celebration of six albums and the Rebelution community being behind us for over 15 years."
Ever expanding and reaching wider audiences, the Rebelution phenomenon continues to soar to new heights as the band has become one of the most successful recording, touring and streaming acts in the country. Eric (singer/guitarist/lyricist), along with Rory Carey (keyboards), Wesley Finley (drums), and Marley D. Williams (bass), remain as focused and committed as they are easy-going and laid back. After their debut album Courage to Grow reached #4 on the Billboard Reggae Chart, there was no stopping them. Their 2012 release, Peace of Mind, debuted at #13 on the Billboard Top 200, hit #1 on both the Reggae and Independent Charts, and was the #4 iTunes album overall. 2014's Count Me In continued the momentum, entering the Reggae Chart at #1 and the Billboard Overall Chart at #14. Then came the Grammy-nominated album Falling Into Place and the Rebelution concert experience, Live At Red Rocks. Free Rein, their sixth studio album, debuted at #5 on iTunes Top 100 albums chart, entered the Billboard Top 200 chart at #41 and took the coveted #1 spot on Billboard's Reggae chart. The band boasts an impressive 235 million+ spins on their Top 10 Spotify tracks alone, and they recently celebrated a successful second annual installment of their own four-night destination event on the beach in Jamaica – Bright Side Festival. The band continues to transcend the world of music and break barriers with their entrepreneurial prowess with their FLAV customized cannabis oil battery pen, herb vaporizer, and oil, which are currently available in select dispensaries in California, Colorado and Washington; and their collaboration with Lost Abbey & The Hop Concept, Take On Anything IPA, is available throughout California.
While the COVID-19 pandemic has forced the band to postpone their summer tour until next year, Rebelution has found other ways to engage with fans, including calling on them to lend a helping hand at a time when it's needed most. The band was early to line up a promotion among their fans, offering to send old tour shirts for fans to refashion into masks to help frontline workers and those in need. And Eric Rachmany is still hosting a weekly radio show on SiriusXM's The Joint every Saturday evening.
DUB COLLECTION TRACK LISTING
Attention Span Dub

City Life Dub

Feeling Alright Dub

Green To Black Dub

Hate To Be The One Dub

Inhale Exhale Dub

Lazy Afternoon Dub

Legend Dub

Mirage Dub

Moonlight Dub

More Love Dub

Roots Reggae Music Dub

Settle Down Easy Dub

Suffering Dub

Those Days Dub