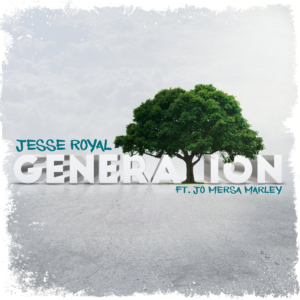 LILY OF DA VALLEY PRE-ORDER IS NOW ON SALE
Jesse Royal released today his new single "Generation" featuring Jo Mersa Marley from his upcoming debut album Lily of Da Valley. The album is scheduled for release on October 6, 2017 on indie powerhouse label Easy Star Records with the pre-order now available here.
"Generation" was recently premiered at VIBE Magazine  where Jesse describes the song by stating, "This is simply displaying our fearlessness and our resilience while ensuring them that we will not take it anymore. We put people over money, love over hate and peace over war, every time! It's a takeover, not a protest." This comes hot on the heels of Royal's first single "Always Be Around" which had Mass Appeal  hailing "Jesse Royal's voice rang out loud and clear as a modern-day descendant of reggae's finest" and The Huffington Post  stating "Always Be Around has it all: lyrical hooks, infectious melody, wonderful harmonics and Royal's lilting voice. 'Always Be Around' is the best reggae song I have ever reviewed. It has hit written all over it, assuring Jesse Royal's place as reggae's new star."
In addition to Jesse's new home at Easy Star Records, he has also inked a new management deal with Lukes Morgan of Ineffable Music Group. December sees Jesse's Lily of Da Valley  tour alongside fellow Ineffable artist Collie Buddz throughout the west coast.
EASY STAR STORE
ITUNES
AMAZON MUSIC
GOOGLE PLAY