"CASTLE IN THE SKY" IS A NEW LUSH SOUNDSCAPE FROM THE U.K. REGGAE/DUB TITANS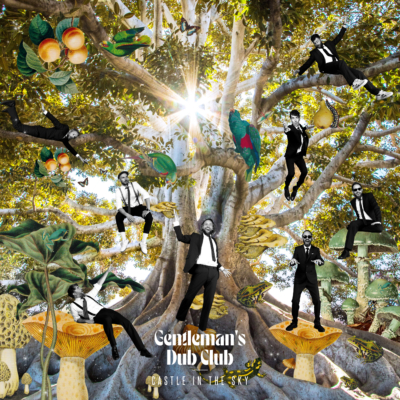 The new single from Gentleman's Dub Club, "Castle In The Sky," is an appropriate way to kick off a new album cycle, as it perfectly captures the overall sonic direction of the new work, while showing off how the band continues to grow musically with each new creation.  Building from the vibes of their recent, soulful cover of Bill Withers' "Use Me," as well as continuing the loose themes explored on 2019's Lost In Space album, "Castle in the Sky" rides an infectious rhythm accentuated with lush, multi-tracked violins, over which lead singer Johnny Scratchley urges his love to join him and "build a castle in the sky." Scratchley says, "Castle in the Sky is a dream-filled love story where fantasies are woven into reality. Breaking down the walls to find the truth that binds us all." While that may be true, the interesting thing here is that Scratchley and the band make such a strong argument for pursuing this endeavor that you almost forget that the title phrase itself is an idiom about chasing foolish, impossible dreams. The band collaborated again with Ben McKone, drummer from General Roots (Hollie Cook's band) and a dear friend and studio partner, to write and record this. You can stream it at http://moremusic.at/CastleInTheSky. 
"Castle In The Sky" already debuted on Rodigan's weekly BBC1xtra show (and was played the next week as well, showing how much the legendary DJ likes the single). The new album will be dropping in 2021. More info on this soon.
Since their formation in early 2006, Gentleman's Dub Club have made a name for themselves as one of the most respected names in U.K. reggae and dub music. GDC have been on tour for nearly 14 years, and are festival favorites across the UK and Europe, finding themselves regularly playing to crowds of 10,000 or more. With 7 studio albums and numerous singles and remixes under their belts, GDC rarely stop working. Since the release of their last full-length, Lost In Space, in early 2019, the band put out three additional singles: the aforementioned Bill Withers cover (which featured vocals from Kiko Bun), an original tune sung by Bitty McLean, and an intensely dubby version of Groove Armada's "Superstylin'." In addition, they were active touring over the last two years – until 2020 lockdown, that is, though they have done a number of full band and dub sets as live casts during this period as well. In fact, they have one scheduled for November 27, which should feature the live debut of the new song. 
True connoisseurs of blending influences, GDC continues their mission to discover the ultimate bassline and vibe. Meeting every unique end of the spectrum, Gentleman's Dub Club always draws on their incredible ability to fuse sounds together until they feel like they've always belonged together. Look out for more singles coming from the new album as well as videos and livecasts leading into 2021.