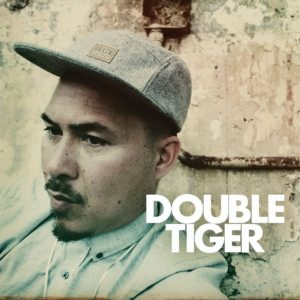 SHARP & READY DUE OUT JUNE 30TH ON EASY STAR RECORDS

Brooklyn-based artist/producer Double Tiger (aka Jay Spaker) is no stranger to critical acclaim. Known for his contributions with trendsetting reggae powerhouse John Brown's Body, as well as his role as half of Tour De Force, and co-founder of Dub Stuy Records, Spaker is also recognized for his past collaborations with legendary artists such as Luciano, Johnny Osbourne, Sly & Robbie, Rankin Joe, Brother Culture, Omar Perry, Al Campbell. Lutan Fyah, Eek A Mouse, and Scientist. Spaker is now gearing up to release his debut solo album, a collection of productions from the past five years of writing. His debut full-length, Sharp & Ready, is set to be released on tastemaker label Easy Star Records on June 30th.
The cultural hub of New York City combined with the range of past experiences and influences of Spaker give Double Tiger a uniquely cultured palate that separates itself from many American reggae offerings. Double Tiger proves that tradition and innovation are more multi-dimensional than a spectrum analysis would suggest, by fusing aspects of both progressive future roots reggae with the energy and understanding of the authentic sound system culture that helped popularize the genre by making it more accessible. The knowledge and know-how in Sharp & Ready  is matched only by the execution.
The feel-good atmosphere provided in Sharp & Ready  is complimented by Spaker's range of vocal deliveries. From singjaying and toasting to well-placed harmonies, including those of JBB bandmate Elliot Martin, Sharp & Ready  shows Jay Spaker poised to make a dent in the youth-fueled roots reggae revival movement alongside the ranks of Protoje, Kabaka Pyramid, and Jesse Royal. The styles range from familiar roots rock reggae, to energetic dancehall, followed by rub-a-dub, and transforming into smooth lover's rock, leaving no stone unturned in this all-encompassing sonic journey.
The album was recorded in Jay's home studio in Brooklyn, New York. If listened to closely, artifacts of the bustling cityscape can be heard throughout the album spilling through vocal takes, capturing a lively backdrop. Constantly surrounded by the music he loves, both on the road and in the studio, leaves Spaker highly inspired and motivated. While some musicians burn out or step back to recharge, Double Tiger seems to thrive off the power source of pure passion. The entire album is a product of Jay's hard work with a little help from his friends Nate Edgar (Nth Power, John Brown's Body) and Borham Lee.
Sharp & Ready  delves into themes of revolution and rising up, all the way down to the heartstrings of love. Further elaborating, Spaker states "I feel it's a very important time to make positive and uplifting music with the political climate, the many injustices & environmental issues.  So many heavy things in the world right now and music has the power to heal and create change so I feel it is a duty of musicians to spread joy, heal and inspire." The opening track "Rocking Time" kicks off in a high-energy, ska-influenced burst. "Babylon Expire" tackles corruption in a no-nonsense matter. "Feel Is Nice" romanticizes old-school love, while "Live Life" celebrates our time on earth. "A Feelin'" is a look at lovers rock meant to stand the test of time, unconditionally. "Time Has Come" tackles trends in a timely matter, calling for the upcoming paradigm shift away from the injustices of corporations and politicians. To cap the album off, "Ram Dancehall" brings an authentically classic dancehall vibe around a catchy hook.
An excellent mix of styles thrusts Double Tiger into the reggae arena. With an authentic international appeal that still incorporates a modern touch, Sharp & Ready  pays solid tribute to the greats while moving reggae forward by further exploring the depth of the genre. Be on the lookout for this release, dropping June 30th on Easy Star Records.